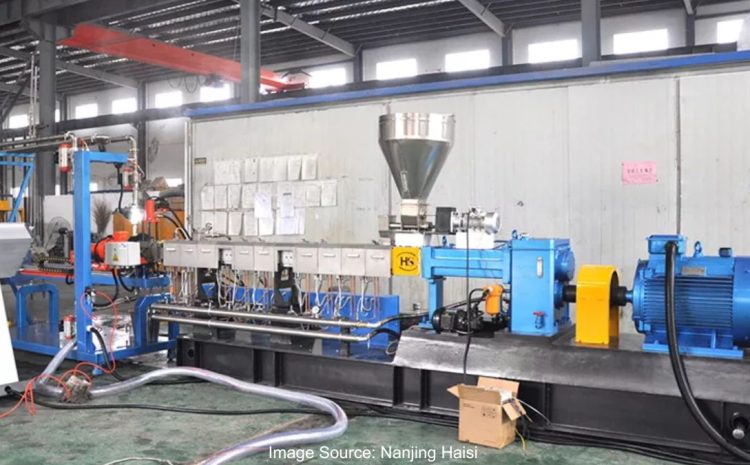 Nanjing Haisi: Your Twin Screw Extruder Expert
In the diverse world of twin-screw extruders, Nanjing Haisi stands out. The company is recognized as a beacon of reliability and innovation. Boasting over two decades of history, it has a strong foundation in research and development. Their journey also emphasizes innovative design in the manufacturing sector. Nanjing Haisi has also significantly enhanced its techniques over time. The company pairs this with strategic and savvy sales services. Thus, it has established itself as a symbol of steadfast quality. Furthermore, it is known for dedicated customer service within the extrusion industry
The Marvel of Twin Screw Extruders
Diving into the sophisticated world of twin screw extruders reveals a mechanism of significant complexity and exactness. A rotating twin screw extruder, in essence, is meticulously engineered to process a wide array of materials with high efficiency, ranging from conventional plastics and rubber to specialized applications in pharmaceuticals and food industries. These extruders, characterized by two intertwined screws, present an arsenal of remarkable advantages, among which are:
High Efficiency in Utilization
The strategic design of twin-screw extruders ensures optimal material and energy usage, consequently driving notable time and financial savings. Their ability to seamlessly handle diverse materials, such as hot melt adhesive and fiber-reinforced compounds, amplifies their utility across various industries.
In-depth Experimental Capabilities
These extruders exhibit the capacity to conduct numerous trials swiftly and efficiently. Additionally, they meticulously refine experimental processes at impressive speeds. Consequently, they cultivate an environment that is conducive to accurate, rapid, and insightful R&D endeavors, fostering innovation and precision in development.
A Hub for Innovation
The twin screw extruders, with their structural and functional flexibility, catalyze innovation by granting manufacturers and developers a versatile platform to explore, test, and bring new ideas to fruition.
Quality and Performance Optimization
With the capacity to fine-tune the properties and characteristics of materials and products, twin screw extruders stand out as a pivotal tool in elevating the quality and performance of outputs to meet and exceed industry standards.
In contrast, a single screw extruder tends to be used for its straightforward functionality and ease of operation, particularly prevalent in specific applications where the sheer power and intricate processing of a twin screw extruder are not requisites.
Twin screw extruders are renowned globally for their capability to manage a vast array of materials and processing conditions, becoming an essential asset in various manufacturing setups. They encapsulate precision, efficiency, and innovative potential in a powerful, unified solution.
Nanjing Haisi: A Spectrum of Solutions
Nanjing Haisi offers a varied selection of twin-screw extruders, each designed for different applications and industries. The company is committed to delivering customized solutions for every client. This involves tailoring its products to address the specific, nuanced needs of each project and client they serve. From PVC pipes, profiles, and sheets to granules and compounds, and extending to an array of materials like PE, PP, PS, ABS, and WPC, the company demonstrates unparalleled expertise and adaptability.
Nanjing Haisi develops modular and customizable systems, showcasing its dedication to technological adaptability. These systems are aptly suited to varied process requirements, aligning with different product specifications. Consequently, they underscore the company's commitment to client satisfaction and customized solutions. This approach solidifies its reputation for providing flexible and client-focused services and products. Developers leverage cutting-edge technology to create these extruders, ensuring they meet the apex standards in performance, efficiency, and dependability.
Reliability and Quality: The Nanjing Haisi Promise
Embracing a holistic approach, Nanjing Haisi assures stellar quality standards across all facets: from design and development through to production and installation. The company crafts its products from premium materials and components, subjecting them to stringent testing and quality control protocols in order to uphold and safeguard its reputation for reliability.
Furthermore, Nanjing Haisi provides an encompassing after-sales service, supporting its customers with a network that spans spare and replacement parts, equipment rebuilding, and maintenance services.
Your Partner in Excellence
Nanjing Haisi transcends the conventional supplier-customer dynamic, emerging as a trusted partner to their clientele. Providing comprehensive solutions and services for extrusion applications, the company is dedicated to:
Offering expertise derived from extensive experience in extrusion technology and applications.
Providing support and guidance throughout process development and optimization.
Conducting training and educational programs for extrusion operators and engineers.
Ensuring the availability of spare parts and equipment rebuilding, coupled with robust maintenance services.
Offering global field service and thorough technical support.
Conclusion
Nanjing Haisi stands as a beacon in the extrusion industry by prioritizing technological advancement and customer satisfaction. They not only provide reliable and innovative solutions but also serve as your one-stop shop for all your repair and remanufacturing needs for all types of Gearboxes through Extruder Gearbox Repair. This commitment consistently guides the industry toward new frontiers. Nanjing Haisi combines deep expertise with a keen understanding of diverse extrusion applications, aiding customers in enhancing product quality and process efficiency. Simultaneously, the company propels toward a model of providing innovative, cost-effective solutions in the industry. Partnering with Nanjing Haisi, which includes Extruder Gearbox Repair, connects you with an industry expert committed to elevating your projects. Their impeccable twin screw extruders and thorough support services ensure your endeavors reach unparalleled heights.