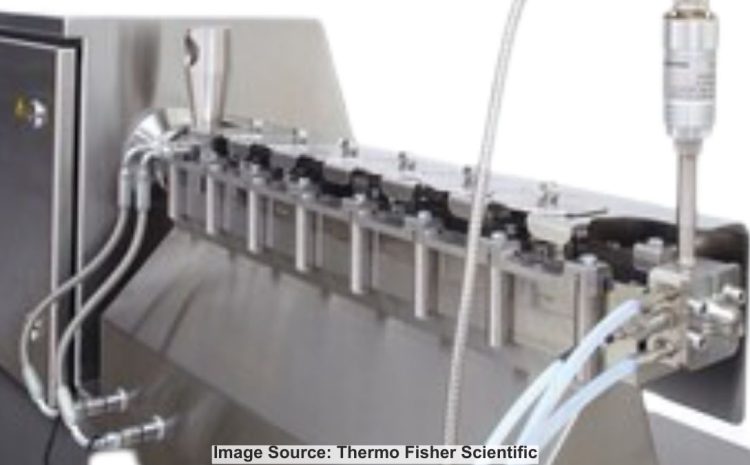 Thermo Fisher Scientific: Extruders for Pharma
Extrusion is a process that transforms raw materials into finished products. This transformation occurs by forcing them through a die or a nozzle. The conditions are controlled in terms of temperature, pressure, and speed. Extrusion is widely used in the pharmaceutical and biotechnology industries. It can enhance the solubility and bioavailability of poorly soluble active pharmaceutical ingredients (APIs). The process can also create novel drug delivery systems. Additionally, it enables continuous manufacturing. Thermo Fisher Scientific is a leading global provider of extrusion equipment and solutions for the pharma and biotech sectors. It offers a wide variety of extruders, from lab-scale to production-scale, that can meet the diverse needs and challenges of pharma and biotech research and development, as well as commercial manufacturing.
A Brief Dive into the History of Extrusion in Pharma
Dating back to the 19th century, the extrusion process has been a cornerstone for producing various commercial manufacturing products. Over time, as the process requirements became more nuanced, the machinery underwent significant advancements. Enter twin-screw extruders. These dynamic machines transformed the extrusion landscape, especially in pharmaceutical research and development. Thermo Fisher Scientific, with its deep-rooted history of providing top-notch lab equipment, quickly recognized the potential of these extruders and has since been a front-runner in their development.
The Distinctiveness of Thermo Fisher's Extruders
Now, what makes Thermo Fisher's twin-screw extruders stand out? For starters, they're tailor-made for the exacting standards of the pharma industry. Designed to handle even a small amount of ingredients precisely, they ensure that every final product that comes off the line meets rigorous quality control standards. Moreover, these biotech lab extruders cater to diverse pharmaceutical applications, from the initial stages of lab extrusion in research environments to full-blown commercial manufacturing setups.
Thermo Fisher Scientific is more than just a supplier of extrusion equipment. It is a trusted partner for pharma and biotech customers, providing comprehensive solutions and services for extrusion applications. Thermo Fisher Scientific offers:
Expertise and experience in extrusion technology and applications
Support and guidance for process development and optimization
Training and education for extrusion operators and engineers
Spare and replacement parts, equipment rebuilding, and maintenance services for extrusion equipment
Global field service and technical support for extrusion equipment
Biotech Research Extruders
For biotech research and development, the star of Thermo Fisher's lineup is the Thermo Scientific Pharma 16 Twin-Screw Extruder. This instrument is a paradigm of flexibility, capable of handling a modest material range from 20 g/h to 2.5 kg/h. Not just that, it's adept at a spectrum of extrusion processes like hot melt extrusion, wet extrusion, and granulation. One of its standout features is its ability to pair up with other analytical tools, such as NIR, Raman spectroscopy, or MS, facilitating real-time quality control during the extrusion process.
Designed to mirror the performance metrics of its larger counterparts, the Pharma 16 Twin-Screw Extruder promises dependable scale-up from research labs to production environments. Its modular screw design with swappable elements makes customization a breeze, enabling easy process optimization. Pair that with a high-torque gearbox, and you have a machine that guarantees smooth operation and meticulous control of screw speed.
This extruder shines especially when creating oral solid dosage forms, such as tablets and capsules, and designing innovative drug delivery systems like transdermal patches or vaginal rings. It's an invaluable tool to overcome formulation challenges, be it low solubility, bioavailability issues, or controlled API release.
Biotech Lab Extruders
There's the Thermo Scientific Pharma 24 Twin-Screw Extruder for biotech labs requiring more robust throughput. Compact yet formidable, this machine can tackle medium amounts ranging from 100 g/h to 10 kg/h. Like its sibling, the Pharma 16, this extruder can seamlessly integrate with other analytical devices for on-the-go quality control.
The Pharma 24 Twin-Screw Extruder is meticulously crafted to adhere to GMP and other regulatory standards, translating to consistently high-quality products. Its modular barrel design can be tailored to the specific needs of each product. Ensuring smooth operation is its high-torque gearbox, facilitating precision in controlling the screw speed.
It is particularly adept at churning out small batches of final products or intermediates geared for further processing. It plays a pivotal role in enhancing properties like solubility, stability, or the release profile of APIs, thereby ensuring high-quality products.
Biotech Production Extruders
Thermo Fisher Scientific introduces the Thermo Scientific Process 11 Parallel Twin-Screw Extruder in situations demanding higher throughput or large-scale manufacturing. Engineered for power and efficiency, it can manage substantial material loads from 20 kg/h to 250 kg/h. It's not just about capacity; this machine can also integrate with other production machinery, paving the way for continuous pharma and biotech product manufacturing.
Designed to resonate with the requirements of industrial production processes, the Process 11 Parallel Twin-Screw Extruder assures enhanced productivity coupled with minimized operational costs. Its parallel twin-screw design is a testament to its high mixing efficiency, splendid output rate, and optimized power consumption. An advanced control system refines the process parameters, ensuring precision and reliability.
Ideal for large batch production or intermediate processing, this extruder epitomizes efficiency. It promises waste reduction, yield amplification, superior quality, and cost optimization, streamlining the production processes like never before.
Conclusion
Thermo Fisher Scientific emerges as a beacon of excellence in a domain that thrives on precision, efficiency, and scalability. Their twin-screw extruders, perfectly tailored for the pharmaceutical and biotech sectors, are not just machines but partners in producing world-class results. As the industry advances, so do the complexities surrounding gear manufacturing and the inevitable need for gearbox repair.
Fortunately, with Extruder Gearbox Repair offering a one-stop shop for all repair and remanufacturing needs for all gearboxes, you're well-equipped to address any challenges. As you embark on your next project, remember that it's about getting to the final product and ensuring the journey there is smooth and cost-effective. With the combined prowess of Thermo Fisher Scientific and the reliability of Extruder Gearbox Repair, your choice is clear and one you won't regret.